Exhibition outlines of the 61st Frankfurt Motor Show (PDF/240KB)
Exhibition outlines of the 61st Frankfurt Motor Show
Fuji Heavy Industries Ltd. (FHI), a global manufacturer of transportation and aerospace-related products and the maker of Subaru automobiles, today announced that it will exhibit its SUBARU IMPREZA WRC 2006 Prototype, finely tuned new SUBARU IMPREZA series, and facelift new SUBARU FORESTER at the 61st International Motor show (IAA) passenger cars, which will open its doors to the public in Frankfurt am Main from September 12 to 25(Press day: From September 12 to 14.) A press briefing is scheduled for Tuesday, September 13th at the Subaru booth.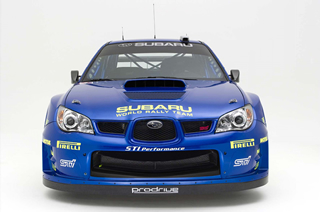 SUBARU IMPREZA WRC 2006 Prototype
1. SUBARU IMPREZA WRC 2006 Prototype*
(replica model)
The WR car based on facelift new Impreza. Since 2003 FHI has been strengthening its support of the Subaru World Rally Team (SWRT), which takes part in the FIA World Rally Championship (WRC). FHI and SWRT have been closely working to improve on vehicle performance in rallying, to accumulate know-how with the feedback from rallying experience, and to apply that know-how and technology to the production of the Impreza base model.
* FIA homologation application scheduled
2. IMPREZA
The new Impreza has raised its product appeal by redefining its sporty looks and the drivability inherent to this model. The Impreza WRX series is fitted with a 2.5 liter 4-cylinder SUBARU BOXER Horizontally Opposed engine and STI version features an improved version of the driver's control center differential (DCCD) as an standard equipment, an electronically controlled All Wheel Drive (AWD) system that adds a torque-sensitive, mechanical limited-slip differential (LSD). Balancing high levels of maneuverability and stability, it embodies driving pleasure.
3. FORESTER
In further advancing the basic concept of "Crossover SUV", Subaru engineers have made substantial improvements on the Forester and raised its product appeal. Not only were driving performance and utilities enhanced, but sophisticated design and quality looks have been significantly improved.
4. Other vehicles exhibited
( ** models will be exhibited on public days only)
B9 Tribeca (Reference vehicle: US market model), Legacy Wagon 3.0R spec. B, Legacy Sedan 2.0R, Legacy Wagon 2.0R, Outback 3.0R, Outback 2.5i**, Forester 2.5XT, Forester 2.0X, Impreza sedan WRX STI, Impreza sedan WRX, Impreza sedan 2.0R, Impreza Wagon 2.0R, G3X Justy special edition, G3X Justy 1.5**