FHI Gunma Oizumi Plant Marks 30 Years of Production(PDF/431KB)
FHI Gunma Oizumi Plant Marks 30 Years of Production
Tokyo, February 23, 2012 – Fuji Heavy Industries Ltd. (FHI), the manufacturer of Subaru automobiles, today announced that 2012 marks 30 years of engine and transmission production in its Gunma Oizumi Plant in Japan.
FHI Gunma Plants consist of five automobile production plants located mainly around Ota city in Gunma prefecture, Japan. The Oizumi Plant, one of Gunma plants, produces the all types of Horizontally-Opposed Boxer engine (1.6-liter, 2.0-liter, 2.5-liter and 3.6-liter) and all transmissions, including the Lineartronic-CVT. The Symmetrical AWD (All-Wheel Drive), combined with Boxer engines and transmissions, is a core technology of Subaru. This technology helps to achieve the Subaru "Enjoyment and Peace of mind" driving experience, through its uniqueness of low center of gravity, optimized weight balance and side-to-side symmetry.
FHI started its engine and transmission production in the Mitaka Plant (current Tokyo Office) located in Mitaka-city, Tokyo in 1958. The Oizumi Plant started operation in 1982 to increase production capacity of power units. Since then, the operation has gradually transferred from the MItaka to the Oizumi, and consolidation of engine and transmission production was completed in April 1999. FHI built its 5th plant on the grounds of the Oizumi Plant in July 2010 and established a highly efficient production system delivering high quality products. The plant produces the new generation boxer engine with a monthly production capacity of 40,000 units. The engine has excellent environmental friendliness with an approximate 10% improvement in fuel efficiency.
FHI will continue to offer "Enjoyment and Peace of Mind" to the customers through the Subaru brand statement "Confidence in Motion" and its consistent approach to "Engineering excellence".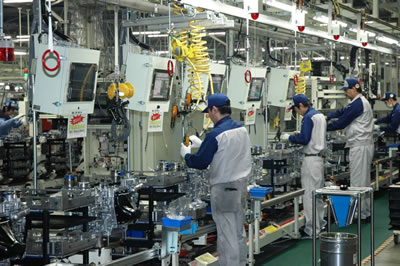 Production line in the 5th plant