FHI Starts the Third Production Line for the Boeing 787 "Center Wing Box" Assembly (PDF/277KB)
FHI Starts the Third Production Line
for the Boeing 787 "Center Wing Box" Assembly
Tokyo, July 11, 2012 – Fuji Heavy Industries Ltd. (FHI), the maker of Subaru automobiles, today started the newly-built third production line at its Aerospace Division's Handa plant (Handa city, Aichi prefecture, Japan) to increase production of the center wing boxes for Boeing Co.'s 787 "Dreamliner" passenger airplane.
FHI has increased its manufacturing capabilities to three lines to support the Boeing's plan to ramp up the 787 monthly production to 10 units as well as to address the production start of its larger variant, 787-9. Just like the existing two lines, the new line covers the production process from the center wing box assembly and main landing gear bay integration to painting and system fitting
The 787 Dreamliner is Boeing's all-new midsize twinjet using carbon fiber composite materials in 50% of its airframe, with a large number of orders already placed by the world's major airlines. FHI is responsible for the design and manufacture of the center wing box, a vital section of the airplane connecting the wings to the fuselage made of composite materials and titanium alloys, which requires FHI's expertise in highly-advanced design and manufacturing technologies.
As honored with the "Boeing's Supplier of the Year" award for 2011, FHI 's superior technology and quality have been highly recognized by Boeing. While maintaining and further developing its partnership with the world's largest aerospace company, FHI will continue to strive to enhance its technologies to consolidate its presence in the global aviation industry.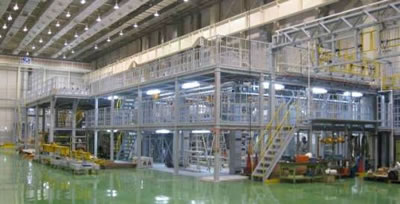 The 3rd Production Line for the Boeing 787 Center Wing Box Assembly at Handa Plant