FHI Hits Milestone with Production of 100th Boeing 787 Center Wing Box
FHI Hits Milestone with Production of 100th Boeing 787 Center Wing Box
Tokyo, September 7, 2012 - Fuji Heavy Industries Ltd. (FHI), the maker of Subaru automobiles, today announced that it shipped its 100th Boeing 787 Center Wing Box to Boeing Commercial Airplanes on August 28. (Boeing Commercial Airplanes (Boeing) is located in Seattle, Washington and headed by President & CEO Raymond L. Conner.)
FHI has been participating in design and manufacturing of Center Wing Box, and it is manufactured in Handa Plant (Handa City, Aichi Prefecture). The Center Wing Box is a key structure that combines a fuselage and wings, and it is a vital start point of major assemblies in production sequence.
Boeing 787 is the Boeing's all-new midsize commercial aircraft that is capable of flying maximum range equivalent to large aircraft and is 20% more fuel efficient than similarly-sized traditional aircraft by utilizing lightweight yet strong carbon fiber composite materials.
It is planned that a production rate of Boeing 787 will be increased up to 10 shipsets per month, and FHI built a third production line last July in order to support Boeing's plan to ramp up the 787 monthly production to 10 shipsets as well as to address the production start of its larger derivative model , 787-9.
FHI is participating in Boeing commercial airplane programs such as Boeing 777 along with Boeing 787. While maintaining and further developing its partnership with the world's largest aerospace company, FHI will continue to strive to enhance its technologies to consolidate its presence in the global aviation industry.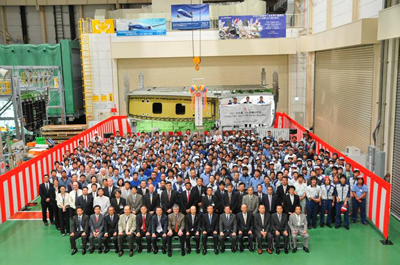 Ceremony to celebrate 100th Boeing 787 center wing box