Subaru WRX's Boxer "DIT" Engine Named to Ward's "10 Best Engines" of 2015
Subaru WRX's Boxer "DIT" Engine Named to Ward's "10 Best Engines" of 2015
● Boxer "DIT" engine highly recognized for its outstanding power teamed with increased fuel economy
● Chosen from among a field of 37 powertrains
Tokyo, December 12, 2014 – Fuji Heavy Industries Ltd. (FHI), the manufacturer of Subaru automobiles, today announced that the automotive industry trade journal Ward's has named Subaru's "FA20" 2.0-liter 4-cylinder Horizontally-Opposed direct injection turbo "DIT" engine of the Subaru WRX a winner of its 2015 Ward's "10 Best Engines" award. This is the fourth time that Subaru has won a Ward's prestigious "10 Best Engines" accolade - the first two being the 2004 and 2010 awards for the "EJ25" 2.5-liter 4-cylinder turbocharged Boxer engine and the third being the 2013 award for the "FA20" 2.0-liter 4-cylinder Boxer engine.
As an iconic Subaru's all-wheel drive (AWD) sports performance model, the "FA20" 2.0-liter 4-cylinder Boxer "DIT" engine produces 268 horsepower at 5,600 rpm, with a broad torque curve that peaks at 258lb.-ft. over a 2,000-5,200 rpm engine speed range while achieving increased fuel economy*. The judges composed of WardsAuto editors appreciated both its superb power performance and enhanced fuel economy. The winners were chosen from nominated 37 powertrains.
To be eligible for the Ward's "10 Best Engines" competition, an engine or propulsion system must be all-new or significantly re-engineered and available in the US market with a base price not exceeding $60,000. Editors score each engine based on power, torque, technology, observed fuel economy, relative competitiveness and noise, vibration and harshness characteristics.
*: Highway fuel economy of 28 miles per gallon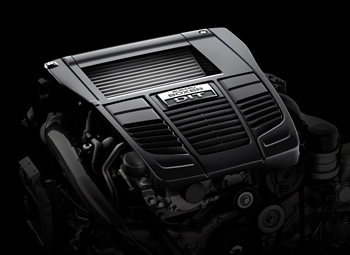 "FA20" Boxer "DIT" engine for Subaru WRX
###