SUBARU completes maiden flight of the New Utility Helicopter (UH-2) for JGSDF
SUBARU completes maiden flight of the New Utility Helicopter (UH-2) for JGSDF
Tokyo, May 19, 2022 – Subaru Corporation today completed the maiden flight of the New Utility Helicopter (UH-2) for Japan Ground Self-Defense Force (JGSDF) at its Aerospace Company Utsunomiya Plant, Tochigi Prefecture, Japan.
This helicopter, flown by Subaru's flight crew, took off from the Utsunomiya Airfield and landed safely after its 30-minute flight.
Subaru has developed the New Utility Helicopter (UH-2) leveraging the SUBARU BELL 412EPX as the platform that has been jointly developed with Bell, a Textron Inc. company.
This helicopter will be delivered to JGSDF after the completion of a series of flight tests by Subaru.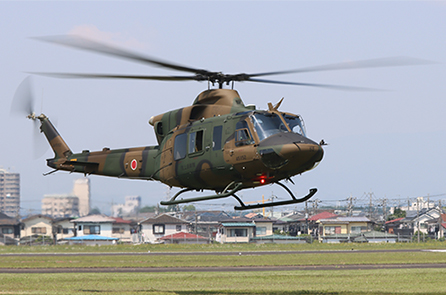 The New Utility Helicopter (UH-2) during the flight test
Related news releases:
February 28, 2019 - SUBARU delivered the prototype of New Utility Helicopter for Japan Ministry of Defense
https://www.subaru.co.jp/press/news-en/2019_02_28_6939/
December 25, 2018 - SUBARU started flight test of the prototype of New Utility Helicopter for JMOD
https://www.subaru.co.jp/press/news-en/2018_12_25_6681/
September 2, 2015 - FHI Wins Contract to Develop Next-Generation Utility Helicopter for Japan Ground Self-Defense Force
https://www.subaru.co.jp/press/news-en/2015_09_02_988/
###